Marital strife has become a serious reality for my couples during the Coronavirus lockdown and many are struggling. In this article, guest author, Mark Taylor, shares some ideas for how to deal with marital problems during this time.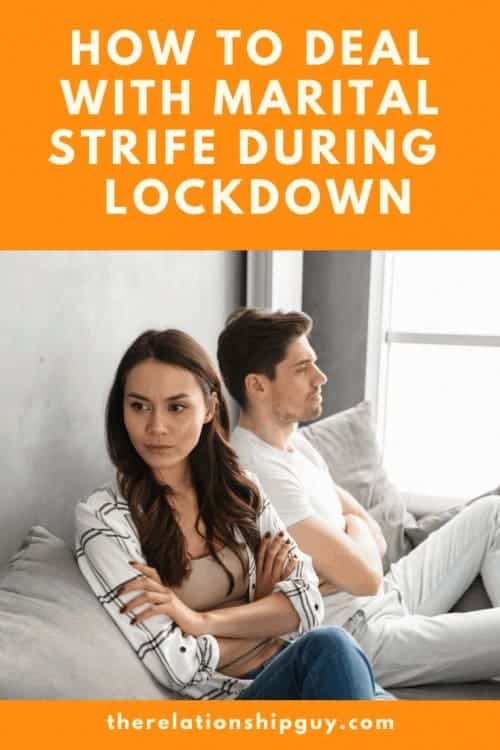 In Steven Soderbergh's 2011 film, Contagion, Gwyneth Paltrow dies due to a virus, after she cheats on her husband, Matt Damon.
But this film is not the only place where there might be a relationship between a deadly virus and marital strife.
As the quarantine and lockdown restrictions started to ease in Xian and Dazhou, in China, a new problem started to emerge.
The cities where millions of people were placed under lockdown saw record numbers of divorce filings upon the easing of restrictions.
Experts believe that many countries across the world could see a similar trend, as restrictions are eased.
Unfortunately, that's not all!
The world has also witnessed a considerable spike in the number of cases of domestic violence during the coronavirus lockdown.
The French police reported a 30% increase in cases of domestic violence.
India, China, Australia, and Spain are witnessing similar situations as well.
Stress, Anxiety, and a Pandemic
You might be surprised to know that even divorce is seasonal!
It was found that between 2001 and 2015, the divorce rate consistently peaked twice a year in Washington State, according to research by University of Washington sociologists.
It was found that the maximum filings were in August and March, following the summer and winter holidays.
These are the periods when many families go on a vacation and spend extended periods of time with each other.
The lockdown has managed to replicate this situation, only without the pleasures of vacation and possible increased levels of marital strife.
Couples are staying home with each other, 24/7.
Plus, the schools are shut, so the children are home too.
This has led to many parents having to complete their daily tasks as well as help children with their studies and keeping them fruitfully occupied through the day.
On top of that, there is the added anxiety of economic uncertainty.
All of these factors can lead to high stress and anxiety levels among married couples, according to experts at the Institute of Personal Growth.
It could be common for people to have marital strife over trivial issues that they might have never witnessed before the lockdown.
Maintaining a Healthy Relationship Through Coronavirus
But all is not doom and gloom.
There are certain things that you can do to deal with marital strife and ensure that your marriage stays healthy during this volatile period.
Embrace Personal Space
Most partners usually get some personal time when at least one of them leaves home for work.
But with most people working from home, that is no longer the case.
This can be particularly difficult for those living in smaller homes.
That is why it can be a good idea for couples to get some personal time, even if it is just 30 minutes a day.
During this time, you can try to meditate, or put on a pair of headphones and just relax.
Sex is Not Always Great
Sex can be a great stress buster.
But only if both partners want it, which is not always the case in the current situation with an increased level of stress, anxiety and marital strife.
Stress has been found to considerably lower sex drive.
In fact, Britney Blair, a clinical psychologist, and sex therapist in Northern California, in an interview with CNN said, "Stress hampers libido for about 85 per cent of us."
And if you are among the other 15%, pushing for it can lead to more marital strife in your marriage.
Get Therapy
In case you feel the problem is becoming too big to handle on your own, consider therapy.
Just because you cannot step out of the house does not mean you cannot get therapy or help to deal with marital strife.
There are plenty of counsellors offering online sessions using a video conferencing platform.
These platforms are generally HIPAA compliant to ensure the security of your data.
They can be highly effective during these difficult times to help you cope and deal with marital strife and other related problems.
Apart from this, it is, important to maintain a healthy lifestyle.
It has been observed that during such volatile times, alcohol consumption goes up, which can have an adverse effect on marriage, according to an article published by the American Psychological Association.